Buying a good valve amplifier (also called a tube amplifier) is crucial as it enhances sound quality. Many people invest in it as it gives them better audio quality, and they can enjoy their music. We have curated a list of some of the best valve amplifiers that will be perfect for your stereo.
Let us get down to business!
Best Hifi Valve Amplifier
Here is a list of some of the best amplifiers:
1. Steljes ML-30HD Hybrid Valve Amplifier
The Steljes ML-30HD Valve Amplifier Tube Amp has a sophisticated design and comes with four inputs and a 60-watt output. Its dual-channel amplifier, which outputs 30 watts on each channel, gives the amp a robust and smooth sound. It is built in the United Kingdom.
With an elegant brushed metal chassis and a pronounced valve that glows beautifully when the amplifier is functioning, it is simply gorgeous to look at. The ML-30HD is the ideal partner if you're seeking something that makes you feel warm.
In a hybrid design, the solid-state power amp assures continuous performance while the pre-amp tubes add warmth to the sound.
Since the built-in USB DAC (the Japan Hi-Res Audio Society has accredited that) supports Hi-Res Audio, you may listen to digital audio files with extra tube warmth at resolutions of 24 bit/96 kHz.
One can easily connect various sources, such as CD/DVD players and other media players, and Bluetooth, when there are many inputs. You can enhance your home audio system in a matter of minutes.
Along with the speakers, there are two outputs: a headphone jack and a dual phono pre-amp out.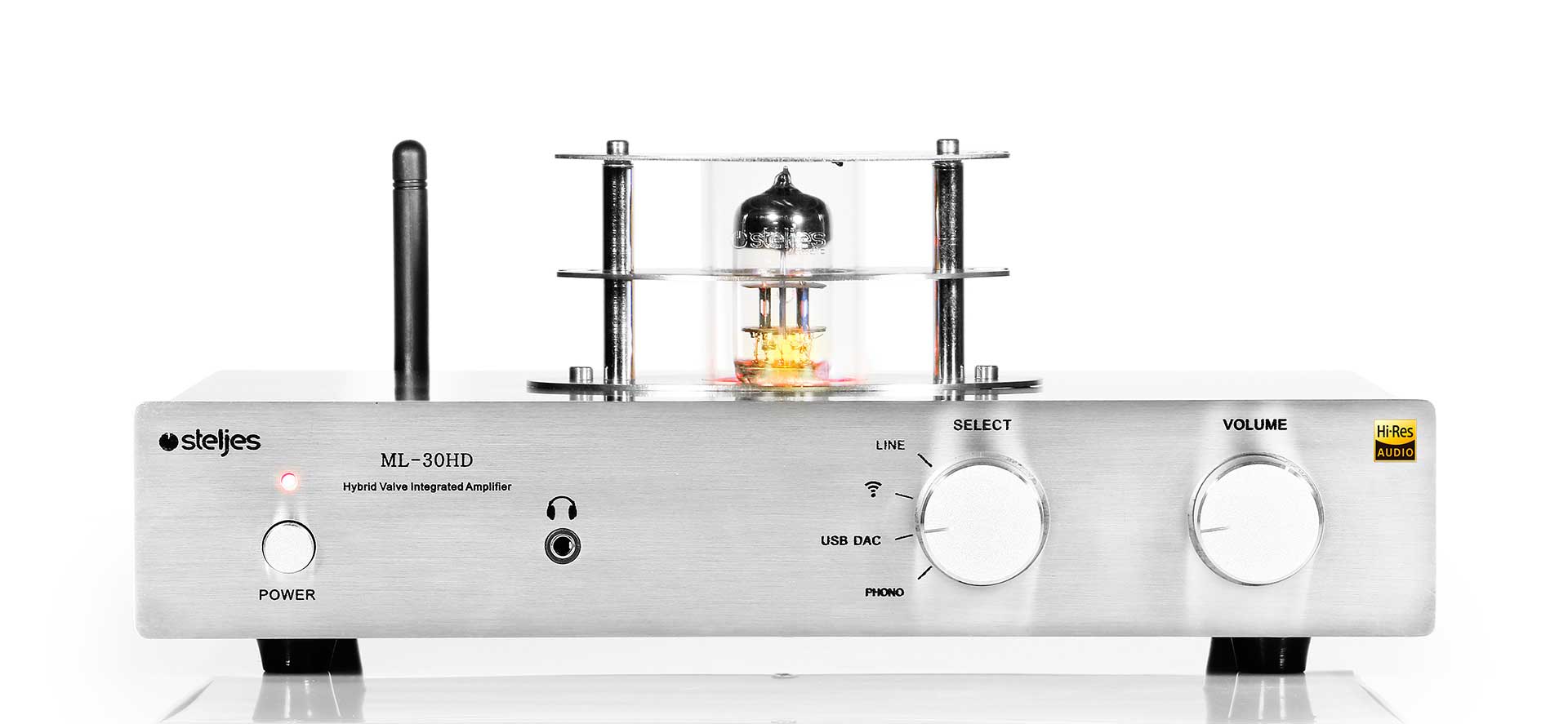 Img Src: Steljes ML-30HD Hybrid Valve Amplifier
2. Decware The Super Zen Triode (SE84UFO)
Just like the other SET amps, this valve amplifier does not require simple to-drive loads and produces 2.3 high-current watts per channel.
It is a Single-Ended Triode amplifier that comes with only two resistors, two tubes and a capacitor in the signal path. The amplifier also uses 5U4 tube rectification and one triode-wired EL84/6BQ5 output tube per channel, driven by a single 6922.
It has a Russian 6P15P-EV, thicker glass, gold grids, and plated pins rated for 10,000 hours of operation.
For an additional 6 watts, one can bridge it into mono. Thanks to the floating output stage design, a pair of these amps can be used as fully differential-balanced amplifiers.
It includes two pairs of input connectors and a volume/gain control, and it is functional both with and without a pre-amp.
An additional 6922 model from Russia is the 6N1P-EV. This warmer, seemingly indestructible tube is a prime example of the word "liquidity" that this product's designers like to call it.
Img Src: Decware The Super Zen Triode (SE84UFO)
3. Madison MAD-TA10BT Hybrid Vintage Tube Amplifier
With a sleek and stylish look, this amplifier is affordable and can be partnered well with the system.
All essential controls are on the front panel, including the master volume, input choice, power on/off, and headphone output.
Additionally, it has a USB port and a control knob that lets you choose the next or the previous song and play or pause tracks.
The two x 25W RMS speaker outputs are driven by a solid-state amplifier, while valves operate the pre-amp. It is simple to attach speakers using the screw posts and banana plugs.
There are many possibilities with four inputs: two pairs of phono, Bluetooth, and USB. A CD, iPod, phone and more can connect easily, and switching between them is effortless.
The front panel is finished with a VU Meter, a wonderful nod to the past.
Img Src: Madison MAD-TA10BT Hybrid Vintage Tube Amplifier
4. McIntosh MC3500 1-Channel Vacuum Tube Amplifier Mk II
The fully balanced driver part of the MC3500 Mk II employs one 12AT7 and three 12AX7A vacuum tubes. The buffer for the EL509S output tubes is the 12AT7 a, and the differential input amplifier, voltage amplifier, and buffer are all contained within the first 12AX7A.
Meanwhile, all of the vacuum tubes are housed in a 12-gauge stainless steel wire cage that is black powder coated, and they are all found behind the power and output transformers.
The cage is designed to make it simple to reach the unique, gold-plated Solid Cinch speaker binding pins even when installed.
The MC3500 Mk II uses proprietary Power Guard Screen Grid SensorTM (SGS) technology. Like their revolutionary Power Guard technology featured in solid-state amplifiers, Power Guard SGS was created exclusively for vacuum tube amplifiers.
The handles are ergonomically designed for easier handling when carrying this 121 lb (54.9 kg) heavy body. The chassis' base is made of stainless steel polished for a shiny appearance. The front panel is machined aluminium with a bead blast finish and gold anodizing to mimic the original MC3500's appearance and quality.
The metre is covered in a transparent glass insert, and the knobs and illuminated letters are housed in a black glass insert at the bottom.
Img Src: McIntosh MC3500 1-Channel Vacuum Tube Amplifier Mk II
Conclusion
So, we have summed up the best HiFi valve amplifier of 2022 that we think will be the best for you. All are amazing, and many people recommend them. A valve amplifier can give you a better performance and better sound quality.
You may also read 10 Examples of Wearable Technology.